Concerts 2017-2018
Following on from a brilliantly successful 2016-2017 season. Our programme this year is full of even more great music.
Our Brochure will be available for download from this website shortly, and our concerts are listed in the Music in Norwich calendar, which has a round-up of all the classical, jazz and world music events in the Norwich area.
For our 2017-2018 season, we have a mixture of well-loved musical favourites and new music for you to explore and enjoy.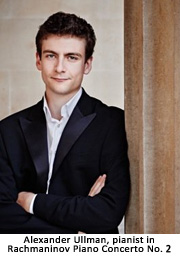 Orchestral highlights include the stunning Mahler's 9th Symphony, in December and Rachmaninov's ravishing Piano Concerto No. 2 performed by our brilliant soloist Alexander Ullman. If you're not familiar with these works, follow the links on the left to hear some excerpts to whet your appetite.
You can also hear the Orchestra perform Sibelius 1st Symphony with its echoes of Finland's struggle for political freedom, and a new work for the Phil, Martinů's 3rd Symphony. Czech-born Bohulsav Martinů had fled Nazi oppression in his homeland to the United States before he started work on this dramatic and nostalgically Bohemian masterpiece; a true plea for peace.
Our Choral offerings this year include the beautiful Song of Destiny by Brahms, a choral setting of a poem by Friedrich Hölderlin, which contrasts the lives of the'blessed ones' in Elysium with the plight of mere mortals on earth, caught in a perpetual and unavailing struggle against Fate and Destiny.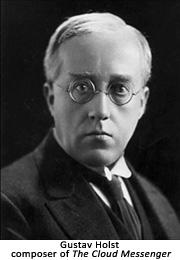 For the remainder of their programme, the Choir have decided to explore two pieces they haven't performed before: Gustav Holst's The Cloud Messenger and the Lobegesang (Hymn of Praise) by Mendelssohn. The Cloud Messenger reflects Holst's fascination with the great Indian religious sagas - a touch of the exotic for a cold Norwich November night. While the Mendelssohn gives audiences an opportunity to hear a Symphony-Cantata very different to the more familiar working of the Choral Symphony genre by Beethoven. You are warmly invited to come and join our choral exploration!