Concerts 2018-2019
Following on from a brilliantly successful 2017-2018 season. Our programme this year is full of even more great music.
Our Brochure is available here, and our concerts are listed in the Music in Norwich calendar, which has a round-up of all the classical, jazz and world music events in the Norwich area.
Saturday 3rd November 2018, 7:30pm
St Andrew's Hall
Armistice Centenary Concert
BUTTERWORTH: A Shropshire Lad
VAUGHAN WILLIAMS: Symphony No 3 'Pastoral'
VAUGHAN WILLIAMS: Lord thou hast been our refuge
ELGAR: Spirit of England
Catherine May, soprano
Norwich Philharmonic Chorus and Orchestra
conducted by David Dunnett and Matthew Andrews


Saturday 8th December 2018, 7:30pm
St Andrew's Hall
American Night
BERNSTEIN: Overture Candide
GERSHWIN: Piano Concerto
COPLAND: Billy the Kid Suite
BARBER: Essay No. 1
GERSHWIN: An American in Paris

Martin Roscoe, piano
Norwich Philharmonic Orchestra
conducted by Matthew Andrews


Tuesday 18th December 2018, 7.30pm
St Andrew's Hall
FAMILY CHRISTMAS CONCERT
Including CAROLS FOR CHOIR AND AUDIENCE
Norwich Philharmonic Choir and Orchestra with special guests
conducted by David Dunnett
Please note that this concert is not recommended for children under the age of 5-6 years


Saturday 9th February 2019, 7.30pm
St Andrew's Hall
WAGNER: Tannhauser Overture and Venusberg Music
STRAUSS: Horn Concerto No.1
MUSSORGSKY: Prelude to Khovanshchina
RIMSKY KORSAKOV: Capriccio Espagnol
TCHAIKOVSKY: Romeo and Juliet

Katy Woolley, horn (Strauss)
Norwich Philharmonic Orchestra
conducted by Matthew Andrews


Saturday 16th March 2019, 7.30pm
St Andrew's Hall
VERDI: Requiem

soloists tbc
Norwich Philharmonic Chorus
Choir of the Musik Institut Koblenz
Norwich Philharmonic Orchestra
conducted by David Dunnett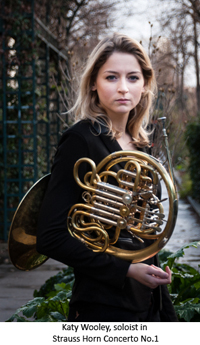 Our 2018-2019 season is a really exciting season – we have programmed some wonderful music including well-known favourites such as Tchaikovsky's Romeo and Juliet and Gershwin's American in Paris but also music by composers we rarely seem to play like Wagner and Mussorgsky.
Added to that, we also have some big name soloists, including the acclaimed British pianist Martin Roscoe in the Gershwin Piano Concerto and the amazing young horn virtuoso Katy Woolley, until recently Principal Horn of the Philharmonia (and who coached our brass section for Mahler 8), performing the Horn Concerto No. 1 by Richard Strauss.
We mark the centenary of the end of World War 1 in November with a special Armistice Concert featuring Elgar's choral work The Spirit of England and, a first for the Phil, the haunting Pastoral Symphony of Vaughan Williams, inspired by his own experiences serving in the trenches. We welcome back Catherine May to sing the ethereal wordless soprano solo.
December sees a rumbustious American Night with the aforementioned Gershwin pieces plus an opportunity to mark Leonard Bernstein's centenary with a performance of his sparkling Overture Candide. Copland's Billy the Kid Suite, and the rarely heard Essay No 1 by Samuel Barber complete the programme.
The orchestra joins the choir this year for the Phil's annual Family Christmas Concert, and in February we perform a gorgeous programme of romantic German and Russian music including Wagner's Overture and Venusberg Music from Tannhauser and Rimsky Korsakov's Capriccio Espagnol. We then end the season in rousing style with that most theatrical of choral works, Verdi's Requiem.
Definitely a season to relish!