Listen to excerpts from another performance of the piece in this concert:





Concert: Duke Ellington
St Andrew's Hall
DUKE ELLINGTON: The Best of the Sacred Concerts

Singers - Louise Marshall, Mary Carewe and Cleveland Watkiss
Tap dancer - Bradley Wray
Narrator - Revd Richard Lawry
Norwich Philharmonic Orchestra and Chorus, conducted by David Dunnett
Echoes of Ellington Jazz Orchestra conducted by Pete Long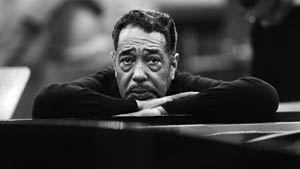 The Phil Chorus realises a long-standing ambition to revive its performance of Duke Ellington's Best of the Sacred Concerts, last given in the Norfolk & Norwich Festival in 1999.
The music comes from three 'Sacred Concerts' which Duke Ellington (pictured left) performed in the 60s and early 70s and he described as "the most important thing I have ever done".
The Choir will be joined by Pete Long and his award-winning jazz orchestra, Echoes Of Ellington, together with some stellar soloists, a tap dancer and the Revd Richard Lawry, Vicar of Blakeney and former actor, as Narrator, in what promises to be a thoroughly entertaining evening, and a little different to the Phil's typical offerings!