Peter Britton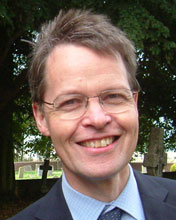 Peter Britton was educated at Canterbury Cathedral Choir School and later at Corpus Chrisi College, Cambridge. He was closely involved in the establishment of the BA Hons Music and MA Music Therapy courses at Anglia Polytechnic (now Ruskin) University and worked in that institution for more than 25 years. Appointed as Head of Music there in 1995 he then took up the post of Manager of the Cambridgeshire Instrumental Music Agency (serving Cambridgeshire and Peterborough LEA schools) from September 1997 until July 2003.
He has worked regularly as a conductor with the Sinfonia of Cambridge, Cambridge Graduate Orchestra, Cambridge Sinfonietta, Cambridge Voices, the Combined Cambs Hospitals Choir, Cambridge Youth Orchestra, Prime Brass, Uttlesforde Orchestra, Stevenage Symphony Orchestra, the Mari Markus Gomori concerts for children and the Cambridgeshire Holiday Orchestra. During his time at Anglia Peter conducted opera as well as orchestral concerts, including Don Giovanni, The Magic Flute, The Rake's Progress and Peter Grimes. He is also active as an orchestral percussionist, as a piano accompanist and in chamber music. In July 2005 he attended the Conductors' Retreat at Medomak, Maine USA, benefitting from the tuition of a distinguished team led by Kenneth Kiesler.
In Feb 2006 he was appointed Fellow and Honorary Director of Music at Hughes Hall, Cambridge, and in September 2007 became Director of Histon Choir 2000, with whom in June 2009 he directed the first British performance of the early twentieth century Swiss work Le Laudi by Hermann Suter. In September 2008 he became a principal conductor of the Norwich Philharmonic Society.